This past Saturday, Beech Ridge Motor Speedway hosted their May open competition season opener event, featuring non-point events for both the Thunder and NASCAR Nite divisions. This year's competition schedule is different than last year's, with four weeks of non-points racing occurring before the competitive points season kicks off in June.
The "NASCAR Nite" competition kicked off with the Wildcats division, where we saw a mixture of both new faces and seasoned veterans.
Jared Kimball, moving up from the Mighty Trucks division in 2021, took off with the early lead in the first of two qualifying heats. Dave Cameron and Travis Lovejoy made hard contact while battling it out for position on lap 2, causing Cameron to go off-track in the early laps of the heat.
Ryan Phillips was also on the move early, all over Travis Lovejoy for third on lap 4 and advancing position the following lap. Laura McKeage, competing this season in addition to her sons, quickly made her way into the top five as well. Ryan Phillips was still in hot pursuit during the closing laps, advancing into the runner-up position over Cole Watson. Nobody was any match for Jared Kimball as he took home his first Wildcats heat victory, followed by Ryan Phillips and Cole Watson.
Rob Herrick and Joe Morse squared up for the early lead in the final Wildcats qualifying heat, with Joe Morse pulling ahead with the edge on lap 2. Gary Babineau, returning to competition in a throwback car honoring the great Greg Peters, was also on the move early, all over Herrick for the runner-up spot on lap 4. Babineau advanced position that lap, then setting his sights on Joe Morse at the top of the leaderboard.
Teammates Dan McKeage, Jr. and Wade Kennedy found themselves battling for fourth on lap 6, with McKeage taking over the position as the leaders continued to go at it for the top spot at the front of the pack. Gary Babineau took off with a slight lead on lap 9 as Dan McKeage, Jr. stole third away from Rob Herrick. Joe Morse was back to challenge Gary Babineau on the final lap, ultimately taking home the heat victory with Babineau and McKeage rounding out the top three.
Once the field was set, the drivers took to the track for a 50-lap feature event. Jared Kimball held the early advantage over Joe Morse, pulling ahead with a slight lead. Gary Babineau was also on the move early, banging on Joe Morse's door for the runner-up spot on lap 3. Babineau took over the spot just two laps later and quickly moved on to Jared Kimball, overtaking the top spot as Kimball fell back to fourth place.
Laura McKeage was in hot pursuit of the leaders early, challenging Jared Kimball for a spot in the top five on lap 12. She took over the spot the following lap as her son, Dan McKeage, Jr., followed in succession. One of the best moments of the race followed as mother and son found themselves door to door, battling it out for fourth on lap 17, with Dan McKeage, Jr. taking over the spot just one lap later.
Dan McKeage, Jr. was still on the move, tracking down Ryan Phillips for third on lap 21. By this point, the two leaders were ahead of the rest of the pack by nearly a full straightaway.
Laura McKeage and Ryan Phillips put on a show throughout the second half of the race, going head to head for fourth for a handful of laps before Phillips pulled ahead with the edge with just ten laps to go.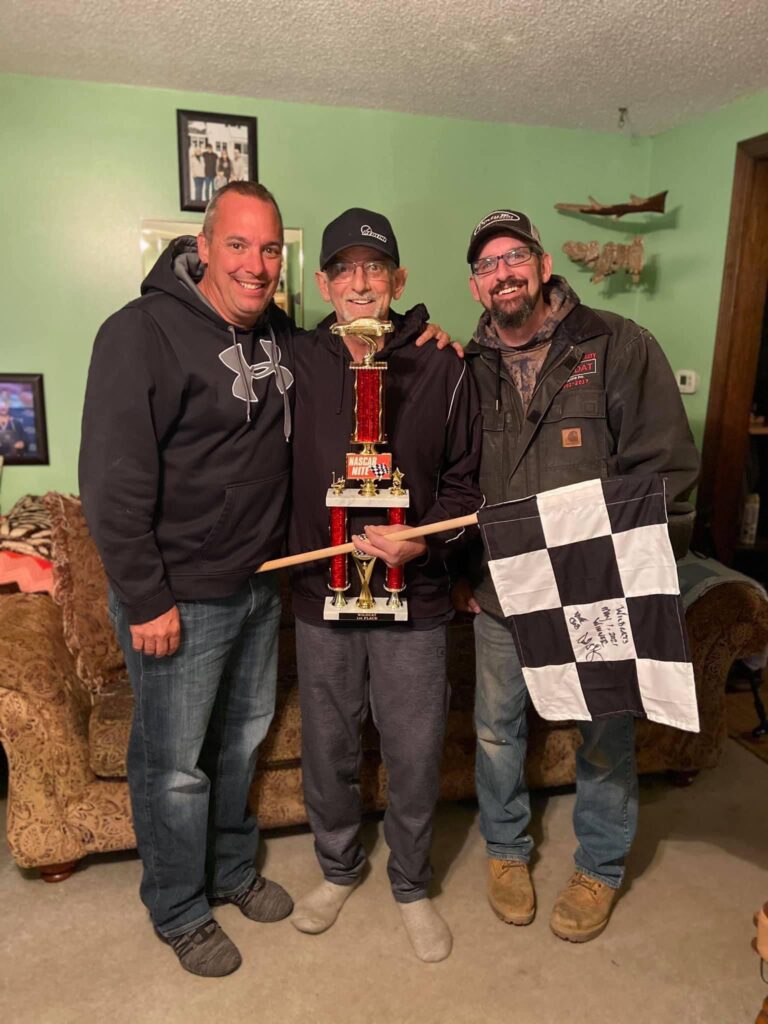 Ultimately, nobody was any match for Gary Babineau, who sailed away with the feature victory. After compiling himself on the backstretch while collecting his checkered flag, an emotional Gary Babineau entered victory lane, dedicating the win to Greg Peters. Greg is a beloved member of our racing community and a Beech Ridge veteran that is putting up the good fight, battling cancer while keeping optimistic and still showing up for his racing family that he knows and loves. Greg is a memorable racing figure to some and a friend to many, including myself.
Joe Morse, Dan McKeage, Jr., Ryan Phillips and Laura McKeage rounded out the top five.
Young drivers like Dan McKeage, Jr. and Jared Kimball, proved this week that they can be competitive with drivers like Cole Watson, Dave Cameron and Lewis Anderson, who have been racing longer than they have even been alive. Veterans like Gary Babineau, who returned to Victory Lane after a 15-year winless drought, proved that they still have it and will continue to make history throughout the course of the season.
There is an eclectic mix of drivers in the Wildcats division in 2021, so it will be exciting to see what this season brings!
Catch the next week of open competition next Saturday, May 8th, at Beech Ridge Motor Speedway. Kids of ALL AGES are now allowed admittance into the pits and grandstand tickets are only $12. As always, kids 12 & under get in free in the main grandstands.
Continue chasing the checkered & support your local short tracks. I hope to see you soon!